Industry leading strength and durability
FOR WHEN YOU'RE NOT THERE
Our wire is precisely formulated and carefully monitored during the manufacturing stage. During manufacturing there is an elimination of impurities to maintain specific alloy formulas. As a result, every vertical and horizontal wire reacts the same to pressure and harsh weather conditions. This means that the entire structure will stretch properly at install and react consistently with temperature changes.
In contrast with other mesh options, if the chemistry isn't perfect then a fence assembled with uncertain steel origins will likely result in a fence that sags, breaks, or fails prematurely.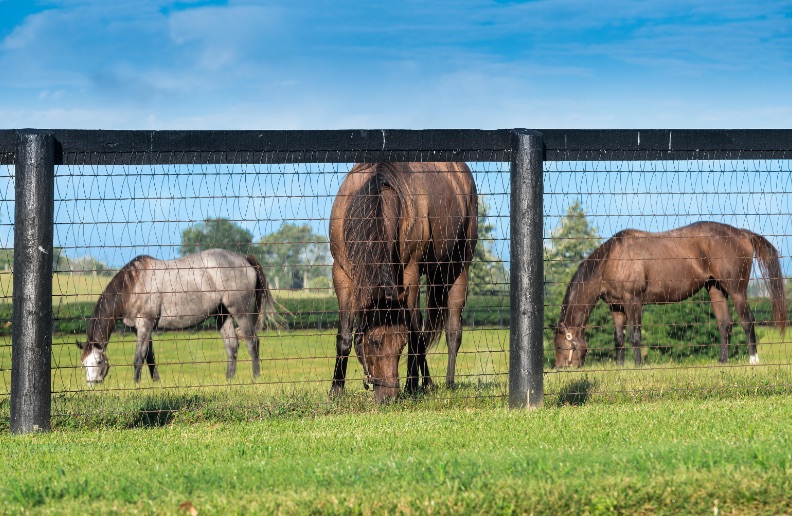 Industry-leading designs for Safety and security
Horses are more prone to fence-related injuries than many other animals. This fence mesh is designed for their safety.
Equine

Mesh product range
Our fence mesh is manufactured with the best materials available for long-lasting value and designed with safety in mind.
No-Climb
Horse Fence - Black
Industry leading strength and durability provide years of trouble-free dependability
Square Deal® Knot prevents Red Brand fence from buckling or sagging; provides extra strength and rigidity with flexibility for ideal installation over hilly terrain
Smooth side of Square Deal® Knot protects hides from injury
2"x4" mesh spacing prevents stepping through
Diamond V- Mesh
Horse Fence
Recognized worldwide by stable managers, breeders, veterinarians and horse owners as the
very safest for horses
V-mesh weave protects hooves or legs from becoming caught in the fence
Flexes on impact preventing breakage or failure
Continuous weave pattern means no cut wire ends to harm animals
No-Climb
Horse Fence - Galvanised
Industry leading strength and durability provide years of trouble-free dependability
Square Deal® Knot prevents Red Brand fence from buckling or sagging; provides extra
strength and rigidity with flexibility for ideal
installation over hilly terrain
Smooth side of Square Deal® Knot protects hides from injury
2"x4" mesh spacing prevents stepping through
Yard, Garden & Kennel
Mesh Fence
2"x2" mesh safeguards yards, gardens, toddlers and pets
Square Deal® Knot construction prevents fence from buckling or sagging; provides extra
strength and rigidity with flexibility for ideal
installation over hilly terrain
Ideal for kennel fencing
Economical alternative to chain-link fencing
King Ranch
Super Duty Mesh Fence
Protect your investment with our most reliable confinement for cattle, hogs and other large animals
Square Deal® Knot prevents Red Brand fence from buckling or sagging; provides extra
strength and rigidity with flexibility for ideal
installation over hilly terrain
Able to withstand the demands of corralling large animal herds
Ideal for all terrains, as well as corrals and pastures
Design Features and Accessories