Coastal Vs Inland: What's The Best Fence Material For You?
Australia is famous for its beautiful diversity. Our one-of-a-kind continent is known for its beaches, rainforests, deserts and grasslands, each with unique and changing weather patterns. For us, it's essential to understand the extremes of our weather when planning your ideal horse fencing solution.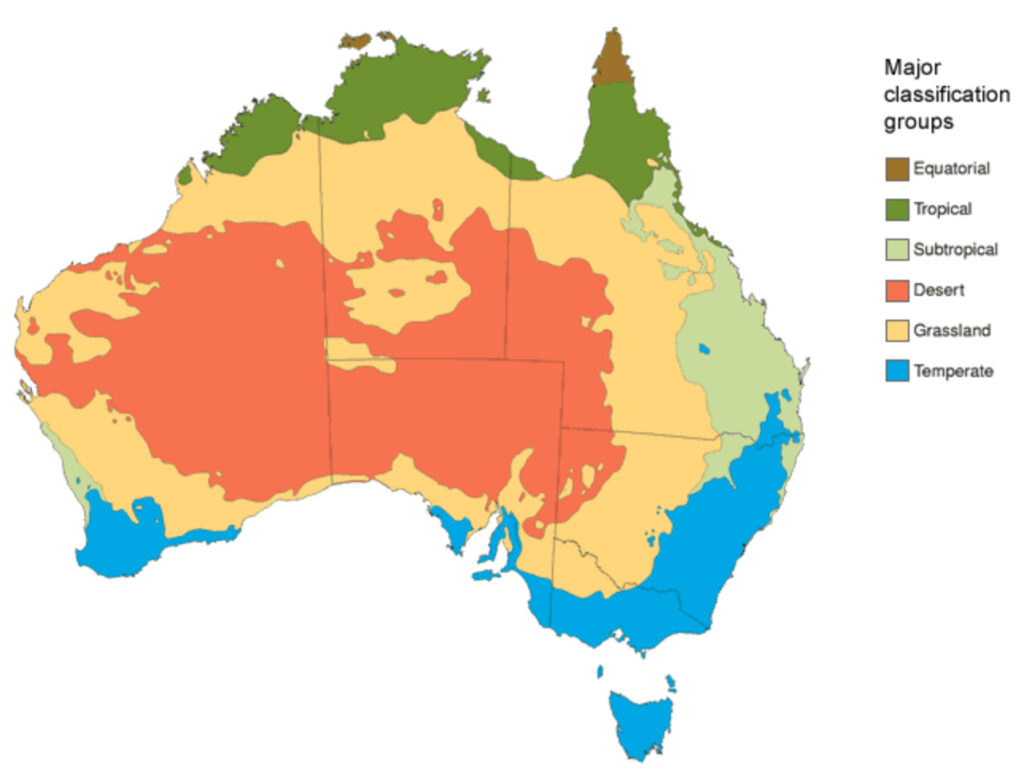 The Bureau of Meteorology defines six major climatic zones within our country. But for simplicities sake, we'll divide them into coastal and inland.
Coastal Australia
It's well known that most Australians live within 50km of Australia's coastline. But it's important to remember that regions far from the ocean can still be considered coastal. The sea's heat insulation has a far-reaching effect on the climate and the conditions that equine fencing must endure.
The two most prevalent coastal climates are tropical and temperate. Although the conditions vary, the weather factors that affect horse fencing are similar.
Tropical
Most of Australia's north and northeast coastline are considered tropical. During the six-month wet season, there's heavy rainfall, blistering temperatures and high humidity.
Any moisture that's seeped into wooden board rails and posts can't dry and are prone to rotting or warping. Preventative maintenance is costly, which is why wood isn't the best horse fencing in these climates.
Temperate
The coastline of NSW, most of Victoria, Tasmania, the south-eastern corner of SA and the south-west of WA are considered temperate. These regions have distinct seasons with regular weather patterns. Though predictable, there are still extreme weather conditions to consider when deciding your equine fencing options.
Like the humidity found in temperate climates, extreme rainfall conditions can cause significant damage or mould growth to unprotected horse fencing. Temperate rainfall is more predictable, so you can undertake regular maintenance to protect water sensitive materials. Or avoid it altogether by choosing a water-resistant steel board horse fence.
The best horse fence for coastal conditions
The main concern to consider in coastal areas is salt and moisture. The regular maintenance and high cost of protecting horse fencing from moisture are easily avoided by choosing a water-resistant steel board horse fence.
Our exclusive Steel post and rail fence is our premium post and rail fencing made entirely of durable steel with a protective powder coating that lasts in any weather conditions. Better yet, Steel post and rail Fence retains a traditional wood board aesthetic.
Our Legacy Fence is another quality equine fencing solution to consider. Whilst it doesn't hold the same presence and features as steel it can handle the extremes of the coastal weather. The Legacy rail combats mould and mildew through being saturated in an anti-mould product at the time of manufacture. It withstands extreme weather with minimal maintenance. Legacy Fence rails can even pop back to shape after being hit by falling trees!
Lastly, our Stock & Noble Sighter Wires are a bullet proof fencing solution as well. They were originally made for coastal climates such as oyster farms. The 4mm and 2.6mm diameter border line sighter wires are both cost effective and very long term safe equine fencing solution Dan Adams from the beachfront Meringo Stud has enjoyed a trouble and injury-free horse stud with our Border Line sighter. "I wouldn't have my horse fencing any other way" he claims.
Inland Australia
Overall, the inland climate summers are hot and dry, with the northern winters warmer and southern winters cooler. Much like the inland fauna and flora that have adapted, the best horse fencing should resist the harsh weather.
Unlike coastal areas, the ocean provides no heat insulation for inland climates. Inland regions experience extreme fluctuations in temperature between day and night. Vinyl fencing cannot withstand such drastic changes and can be prone to cracking or becoming brittle. Timber also reacts negatively to the extreme heat by warping or cracking.
The best horse fence for inland regions
Like in the wet and humid coastal climates, a steel board horse fence is ideal for inland conditions. In addition to resisting moisture, it can withstand extreme variations in temperature. Our steel post and rail fence is thermally independent. Meaning there's plenty of room to expand and contract. The rails stay straight, and the posts remain aligned, reducing the cost of horse fencing repairs and replacement.
Another solution that's suitable for the inland is choosing electric horse fencing. EquiRope is an electric fencing solution for inland Australia. It combines 8 pure copper conductors with a superior UV stable polyester braid that's built to withstand even the harshest of temperatures. It's easy to install, built to last and cost-effective!
At Stock & Noble, we're ready to help plan your equine fencing investment. Start with our interactive Fence Planning Tool and receive a quote right away. Next, one of our consultants will share their wealth of knowledge to help work out the best solutions for you.